HC Steel Grit: H
igh
C
arbon
Steel
Grit
by W Abrasives
™
L

ong-lasting,

r

eliable,

reusable & recyclable

metallic

grit

abrasives
Cast steel grit, manufactured under strict quality controls and conditions, using a unique air quenching thermal process, which will deliver a long lasting media. With minimal chloride & salt concentration (the lowest on the market), you receive a blasting media with the highest impact value for your cleaning application. Used primarily in «sandblasting» for surface preparation prior to painting, it is also used for descaling and desanding applications.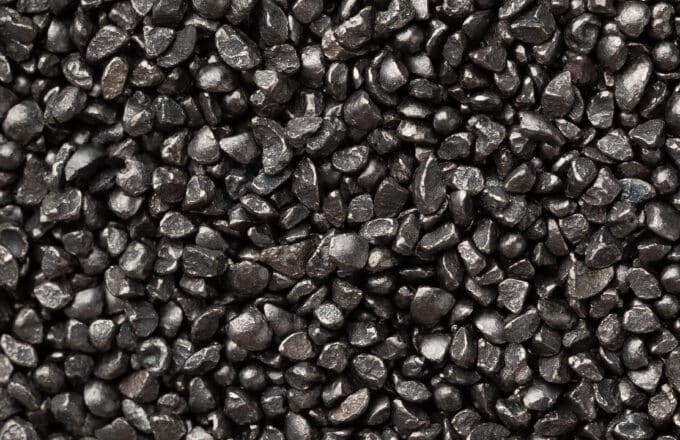 Users benefits
Users benefits
3 key features

100% Recyclable

Air quenched

Globally Available
Performances
Performances
Hardness levels explained
Available in 4 different hardnesses

to suit multiple applications. From a soft range (GP), for cleaning applications using turbines, to intermediate ranges (GB and GL), for angular profiles and higher cleaning speeds, to a very hard range (GH) , for all applications requiring significant mechanical anchoring, deep cleaning, and mainly used with compressed air shot blasting.

Each line is formulated with a

narrow hardness range

, which means more stable, consistent, and reliable profile results for your "sandblasting" production process.




Manufactured using a unique process, our steel abrasives have

chloride and salt levels below 50 μS/cm

, the lowest on the market. This reduces the possibility of contaminating surfaces, ensuring longer life for coatings and paints.

A

wide range of standard sizes

of G14, G16, G18, G25, G40, G50 or G80 are always abailable, while larger sizes, such as G12, G10 or very small (G120) are available on request.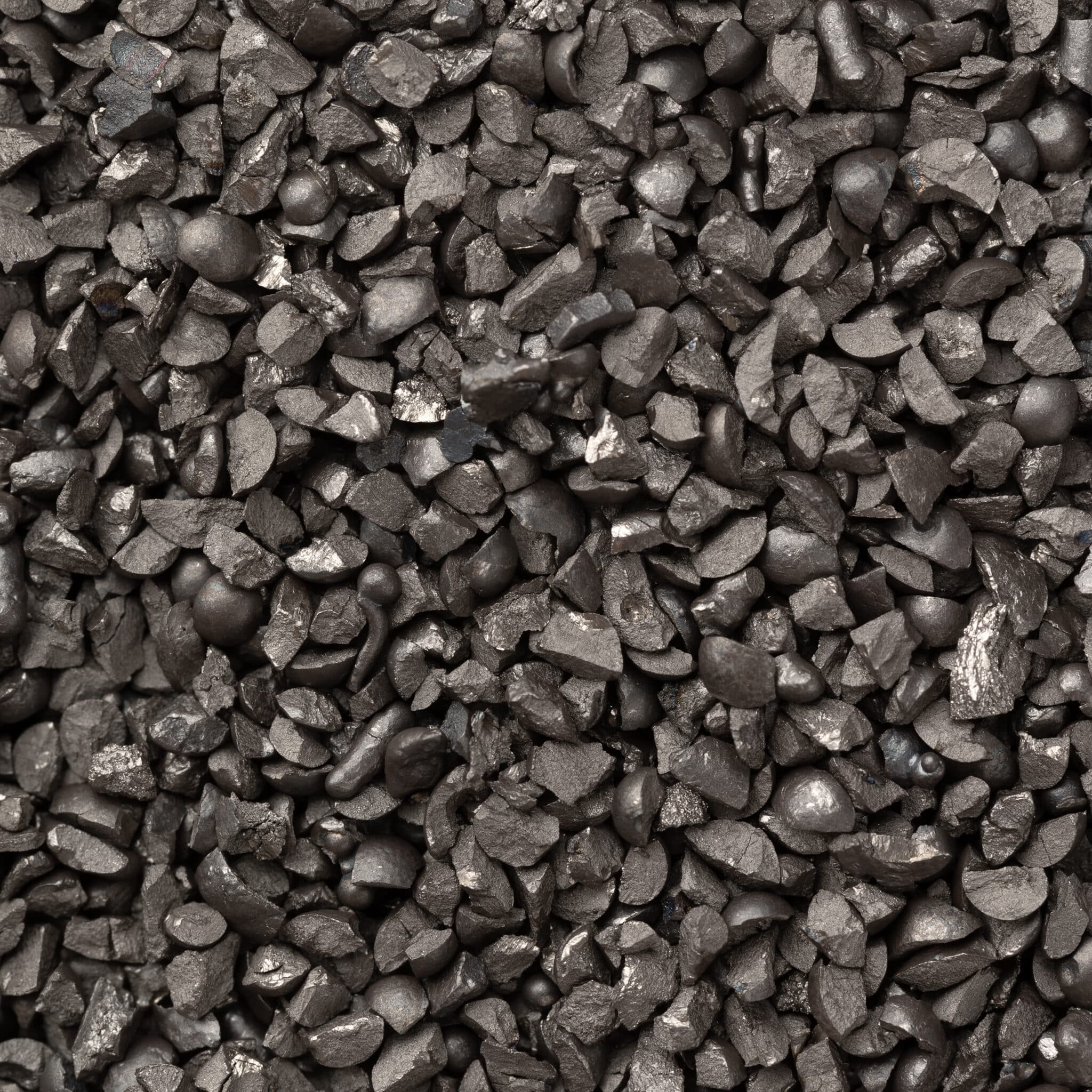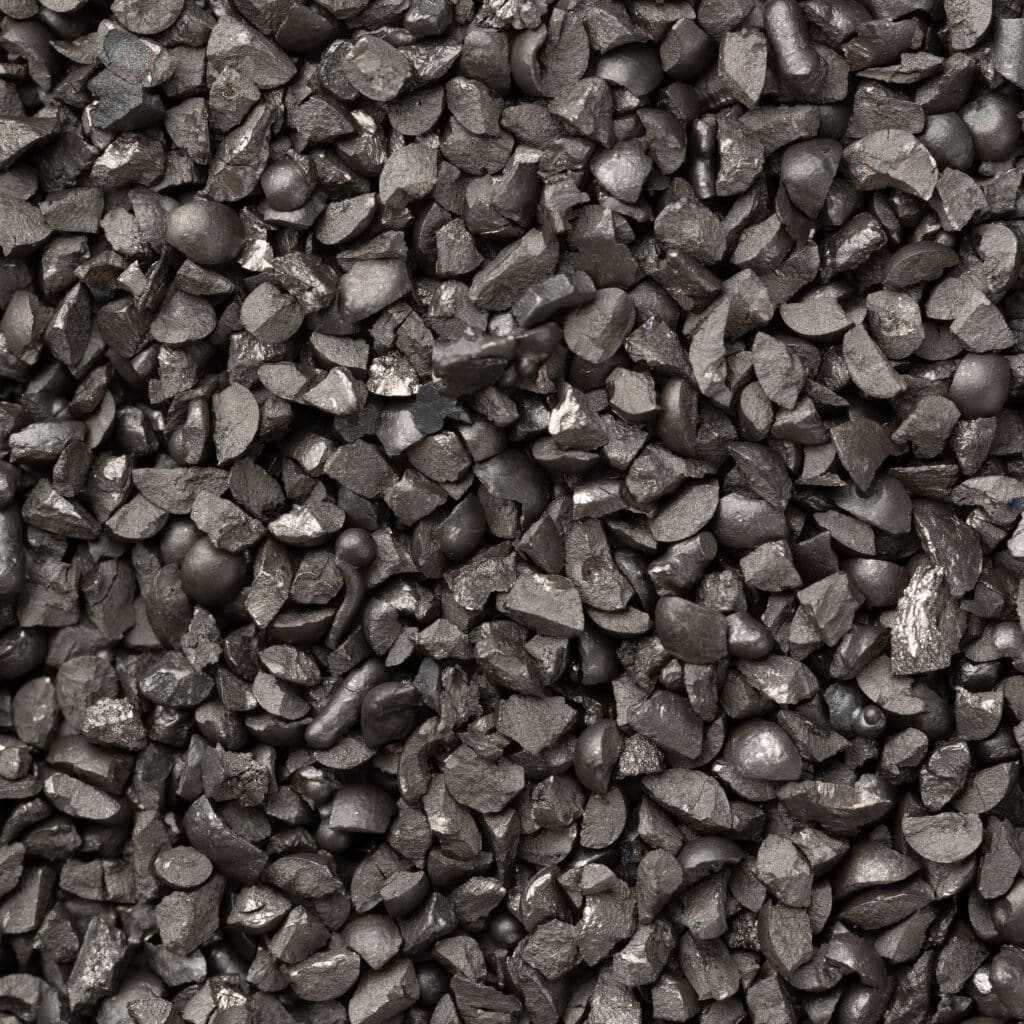 Hardness Levels
Hardness Levels
SAE, ISO and WA specifications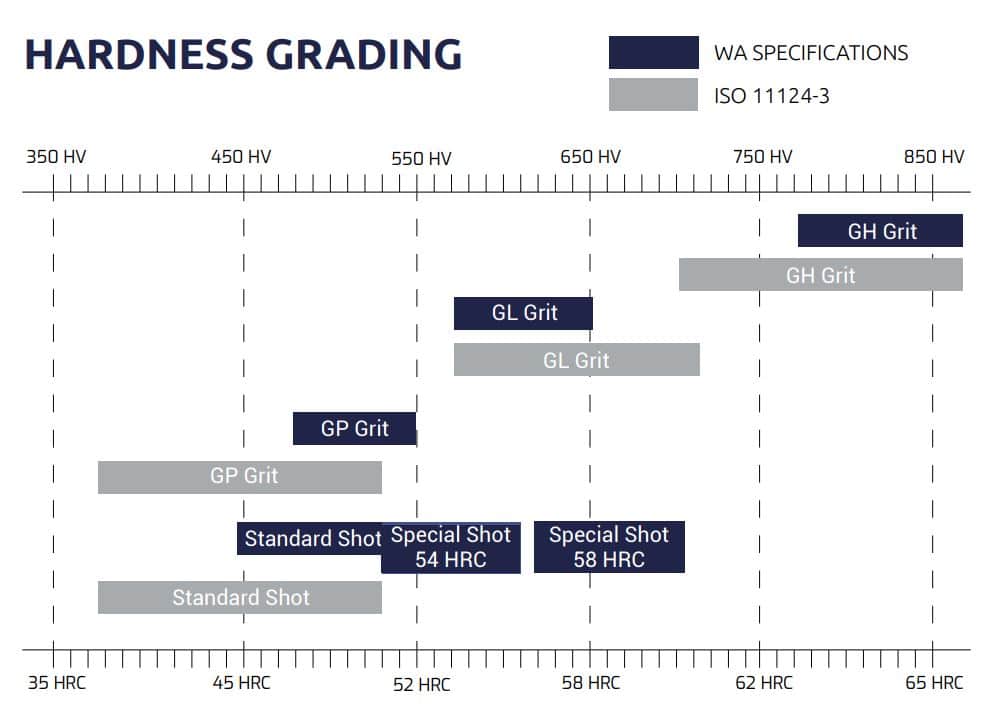 Markets and applications
Markets and applications

Steel structures

, bridges





Specifications
Specifications
 

Family 

 

 

Steel Grit GP 

 

 

Steel Grit GL 

 

 

Steel Grit GH 

 

 

Shape 

 

 

Angular 

Shape in operation

 

Angular "Patatoid"

 

Angular "Soft edges"

 

Angular "Sharp edges"

 

Chemical composition

 

C ≥ 0.80%, Si ≥ 0.40%, 0.60% ≤ Mn ≤ 1.20%,

 

S ≤ 0.05%, P ≤ 0.05% 

 

 

Hardness 

40-51 HRC

 

(544-613 HV) 

54-61 HRC

 

(580-720 HV) 

60 HRC min

 

(697 HV) 

Standard deviation

 

 

 

± 3Rc (± 80 HV) 

 

 

  

Microstructure 

Highly refined and homogeneous tempered martensite, obtained through a well-controlled manufacturing process that mixes the iron and carbon atoms

 

in the finest and most ideal way possible, producing optimum homogeneity, 

hardness and resistance. 

Minimum den

– sity measured by alcohol displacement

 

 

 

> 7.3g/cm3 

 

 

Conductivity 

Typically, <30 μS/cm

 

Low level according to ASTM D4940 

Applicable specifications

 

SAE J444, SAEJ445, SAE J1993, ASTM

 

D4940, SSPC-AB3 (on request) 
Read more :
https://www.astm.org/products-services/standards-and-publications.html  
https://store.ampp.org/nacestandards 
Size distribution
Size distribution
SAE and WA size options
(primarily used in Americas and Asia) 
Product

 

Sieve opening in mm (values given in cumulated weight %)

 

2,8

 

2,36

 

2

 

1,7

 

1,4

 

1,18

 

1

 

0,85

 

0,71

 

0,6

 

0,5

 

0,42

 

0,35

 

0,3

 

0,18

 

0,12

 

0,07

 

 G_012

 

 

 

AP

 

 

 

80% min

 

90% min

 

 

 

 

 

 

 

 

 

 

 

 

 

 

 

 

 

 

 

 

 

 

 

 

 

 G_014

 

 

 

 

 

AP

 

 

 

80% min

 

90% min

 

 

 

 

 

 

 

 

 

 

 

 

 

 

 

 

 

 

 

 

 

 

 

 G_016

 

 

 

 

 

 

 

AP

 

 

 

75% min

 

85% min

 

 

 

 

 

 

 

 

 

 

 

 

 

 

 

 

 

 

 

 

 

 G_018

 

 

 

 

 

 

 

 

 

AP

 

 

 

75% min

 

 

 

85% min

 

 

 

 

 

 

 

 

 

 

 

 

 

 

 

 

 

 G_025

 

 

 

 

 

 

 

 

 

 

 

AP

 

 

 

 

 

70% min

 

 

 

 

 

80% min

 

 

 

 

 

 

 

 

 

 

 

 G_040

 

 

 

 

 

 

 

 

 

 

 

 

 

AP

 

 

 

 

 

 

 

 

 

70% min

 

 

 

80% min

 

 

 

 

 

 

 

 G_050

 

 

 

 

 

 

 

 

 

 

 

 

 

 

 

 

 

AP

 

 

 

 

 

 

 

 

 

65% min

 

75% min

 

 

 

 

 

 G_080

 

 

 

 

 

 

 

 

 

 

 

 

 

 

 

 

 

 

 

 

 

 

 

AP

 

 

 

 

 

65% min

 

75% min

 

 

 

 G_120

 

 

 

 

 

 

 

 

 

 

 

 

 

 

 

 

 

 

 

 

 

 

 

 

 

 

 

AP

 

 

 

60% min

 

70% min

 

Screen Number

 

7

 

8

 

10

 

12

 

14

 

16

 

18

 

20

 

25

 

30

 

35

 

40

 

45

 

50

 

80

 

120

 

200

 

Screen Size




(mm)

 

2,8

 

2,36

 

2

 

1,7

 

1,4

 

1,18

 

1

 

0,85

 

0,71

 

0,6

 

0,5

 

0,42

 

0,35

 

0,3

 

0,18

 

0,12

 

0,07

 

Screen Size




(inches)

 

0,111

 

0,0937

 

0,0787

 

0,0661

 

0,0555

 

0,0469

 

0,0394

 

0,0331

 

0,0278

 

0,0234

 

0,0197

 

0,0165

 

0,0139

 

0,0117

 

0,007

 

0,0049

 

0,0029

 
(primarily used in Europe, MEIA (Middle East, India and Africa)
Product

 

Sieve opening in mm (values given in cumulated weight %)

 

2,8

 

2,36

 

2

 

1,7

 

1,4

 

1,18

 

1

 

0,85

 

0,71

 

0,6

 

0,5

 

0,42

 

0,35

 

0,3

 

0,18

 

0,12

 

0,07

 

W G_012

 

0

 

<20

 

 

 

>85

 

>97

 

 

 

 

 

 

 

 

 

 

 

 

 

 

 

 

 

 

 

 

 

 

 

 

 

W G_014

 

 

 

0

 

<10

 

 

 

>80

 

>90

 

 

 

 

 

 

 

 

 

 

 

 

 

 

 

 

 

 

 

 

 

 

 

W G_016

 

 

 

 

 

0

 

<10

 

 

 

>80

 

>90

 

 

 

 

 

 

 

 

 

 

 

 

 

 

 

 

 

 

 

 

 

W G_018

 

 

 

 

 

 

 

0

 

<30

 

 

 

>85

 

>97

 

 

 

 

 

 

 

 

 

 

 

 

 

 

 

 

 

 

 

W G_025

 

 

 

 

 

 

 

 

 

0

 

<40

 

 

 

 

 

>85

 

>95

 

 

 

 

 

 

 

 

 

 

 

 

 

 

 

W G_040

 

 

 

 

 

 

 

 

 

 

 

0

 

<20

 

 

 

 

 

 

 

>90

 

>96

 

 

 

 

 

 

 

 

 

 

 

W G_050

 

 

 

 

 

 

 

 

 

 

 

 

 

 

 

0

 

<10

 

 

 

 

 

 

 

>80

 

>90

 

 

 

 

 

 

 

W G_080

 

 

 

 

 

 

 

 

 

 

 

 

 

 

 

 

 

 

 

 

 

0

 

<20

 

 

 

 

 

>75

 

>90

 

 

 

W G_120

 

 

 

 

 

 

 

 

 

 

 

 

 

 

 

 

 

 

 

 

 

 

 

 

 

0

 

<10

 

 

 

>50

 

>80

 

Screen Number

 

7

 

8

 

10

 

12

 

14

 

16

 

18

 

20

 

25

 

30

 

35

 

40

 

45

 

50

 

80

 

120

 

200

 

Screen Size




(mm)

 

2,8

 

2,36

 

2

 

1,7

 

1,4

 

1,18

 

1

 

0,85

 

0,71

 

0,6

 

0,5

 

0,42

 

0,35

 

0,3

 

0,18

 

0,12

 

0,07

 

Screen Size




(inches)

 

0,111

 

0,0937

 

0,0787

 

0,0661

 

0,0555

 

0,0469

 

0,0394

 

0,0331

 

0,0278

 

0,0234

 

0,0197

 

0,0165

 

0,0139

 

0,0117

 

0,007

 

0,0049

 

0,0029

 
You may also like
You may also like
Other abrasive options
Resources & downloads