WAMO
Abrasive
measuring kit
Simple and efficient, it allows you to measure the distribution of the operating mixture. First of all, it is important to note that the WA-MO kit is anything but a gadget: W Care™ technicians personalize this support for you to better control your shot blasting operations.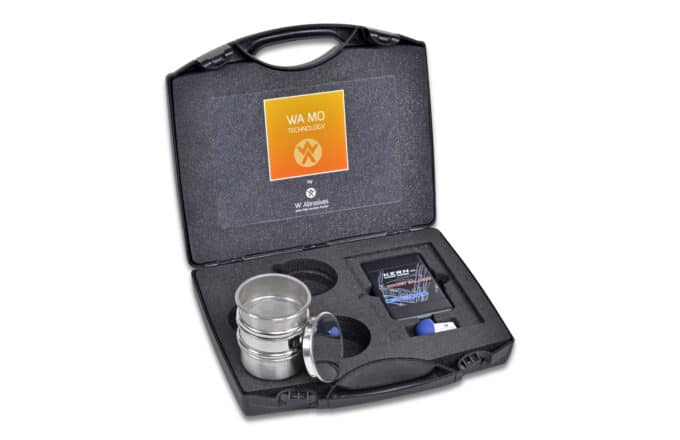 Advantages
Advantages
Discover the advantages of the WA-MO Kit
Why should you rely on the WA-MO Kit for your daily operations?

The WA-MO Kit is a tool provided by Winoa's technicians to help measure active mixes and carry out consistent daily inspections. This tool is particularly useful for certain blasting operations, such as
Shot-Peening,
De-sanding,
Surface Preparation,
De-scaling,
De-burring,
These require constant kinetic energy transfer along the entire workstation. The WA-MO Kit provides the ability to ascertain relevant blast machine usage and ensures that each particle in the mix is efficiently used.
What are the benefits of inspecting the active mix used in blasting operations?

Inspecting the active mix used in blasting operations provides several benefits, including:
reduced turbine and part wear,
increased blasting efficiency,
reduced abrasive consumption through quick leak and wastage detection.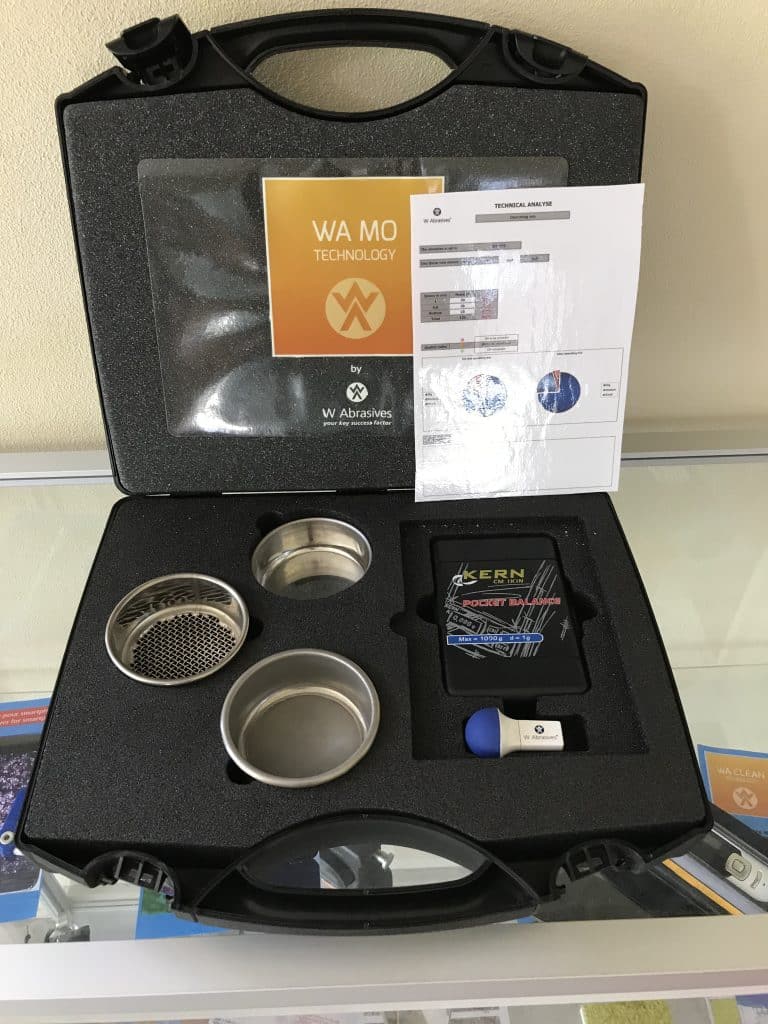 Usage
Usage
WA-MO Kit applications
[Available only in Europe, see Blast Check Kit for Americas and Asia]
How to use?

The WA-MO Kit is an easy-to-use tool designed for inspecting the active mix used in blasting operations. All you need to do is collect an approximately 200 g representative sample from the air classifier (at the shot curtain) and sieve the sample using the filter set included in the kit case.
A battery-powered portable scale allows you to gather data following complete sample filtering.
The WA-MO Kit is customized for each basic product and allows you to monitor the state of the active mix through a USB key included in the kit for data recording purposes. A playfully designed graph with color-coded index instantly shows the active mix's current state. If the index is green, the mix is compliant.
A well-balanced active mix is composed approximately of 75% large shot, 20% intermediate shot, and 5% fine particulate. By regularly inspecting the active mix using the WA-MO Kit, you will be able to reduce part and turbine wear, increase blasting efficiency, and reduce abrasive material consumption.